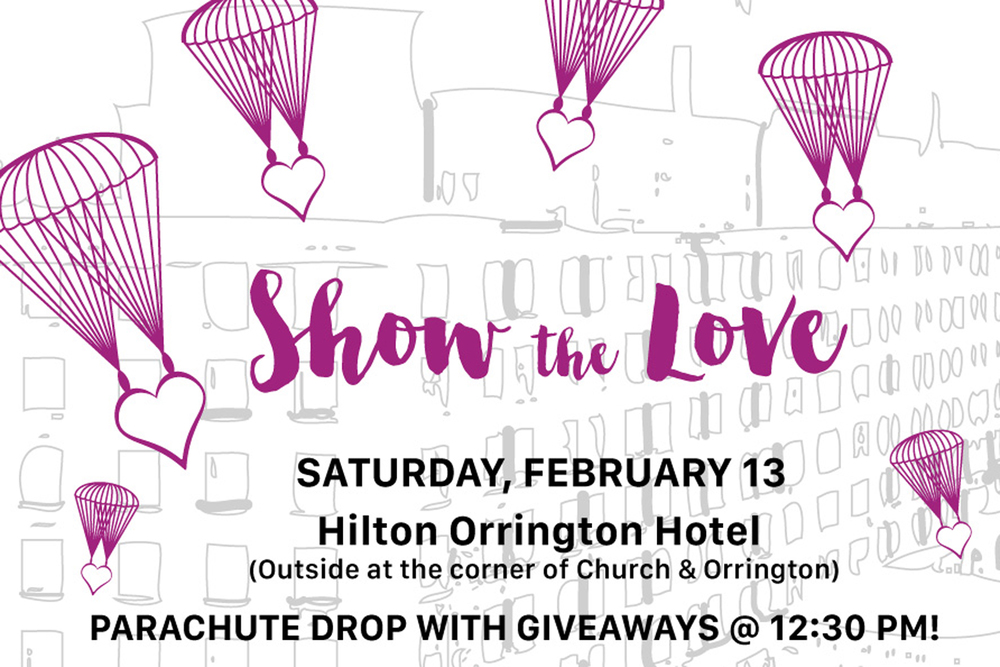 More than 3 dozen downtown Evanston businesses are participating in a fun giveaway. Come to the Hilton Orrington plaza (intersection of Orrington and Church) at 12:30 pm on Saturday, February 13, for a chance to catch a heart-shaped parachute with a surprise gift from a local business. According to DowntownEvanston.org:
You might walk away with Giordano's "golden tickets" (dinner for two), a coupon for jewelry at Ayla's Originals, free classes to Pure Barre and Exhale Evanston, tickets to the movies, a gift certificate for a bouquet at FlowersFlowers, coupons to Becky and Me Toys, or a gift card to enjoy a delicious meal at Found, Bistro Bordeaux, Creperie Saint Germain and much, much more. One lucky person will catch a free night at the Hilton Orrington!
For more information on participating businesses, visit DowntownEvanston.org.
Afterward, shop and dine in downtown Evanston to help raise money for Foundation 65, an organization that provides arts and literacy grants to District 65 schools. Check out the Valentine's specials listed below. Please note that businesses with an asterisk on the DowntownEvanston.org website are donating a portion of sales on February 13 and/or 14 to Foundation 65.