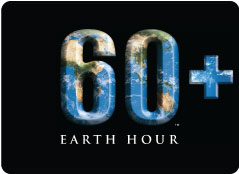 Tonight (March 29), from 8:30 PM to 9:30 PM local time, the world celebrates Earth Hour by turning off all non-essential lights. Earth Hour is a worldwide movement for the planet organized by the World Wide Fund for Nature (WWF). Now in its eighth year, Earth Hour engages a massive mainstream community on a broad range of environmental issues.
What is Earth Hour?
Earth Hour started as a lights-off event in Sydney, Australia in 2007. Since then it has grown to engage more than 7000 cities and towns worldwide, and the one-hour event continues to remain the key driver of the now larger movement. The event is held worldwide and held annually towards the end of March, encouraging individuals, communities, households and businesses to turn off their non-essential lights for one hour as a symbol for their commitment to the planet.
What lights should be turned off?
That is a decision that has to be made individually but usually the overhead lights in rooms (whether it is your house or a business), outdoor lighting that does not impact safety, decorative lights, neon signs for advertising, televisions, desk lamps, etc. Use common sense with respect to safety. Keep small night lights on for basic safety especially in halls and on stairs. Make sure you have alternative light sources handy before Earth Hour starts, like a flashlight. That way if you need to see, you have a light source close at hand, and you can still respect the spirit of Earth Hour and keep yourself and your family safe.
What is happening in Illinois for Earth Day?
Gov. Pat Quinn on Thursday ordered lights out from 8:30 to 9:30 p.m. Saturday at many state facilities. That includes the Thompson Center and Bilandic Building in Chicago, the Illinois State Fairgrounds and other state facilities across Illinois. Quinn says it will not only conserve energy, but "shine a light" on the need to protect the planet.
This year, the city of Chicago and ComEd will commemorate Earth Hour with a 'lights out' event outside the Chicago Cultural Center. Families and friends can take part in Earth Hour at home and with this year's partners, including:
Spider-Man, the official "superhero" sponsor of Earth Hour, will join Sony and other partners at the Chicago Cultural Center for kids' activities and fun tips and giveaways to save energy at home.
Lettuce Entertain You Restaurants' select Big Bowl locations will offer a free kid's meal for families who dine in on March 29 (one free kid's meal per adult) and fill out the ComEd Energy Efficiency Pledge. Plus, all diners receive a free energy efficiency gift bag.
Yoga studios will offer candlelight classes in honor of Earth Hour, including: Bloom Yoga Studio in Chicago's Lincoln Square; Namaskar Yoga in Near North Chicago; Nspired Yoga in Rockford, and Village Yoga in Chicago's Lincoln Park.
Prior to the "lights out" moment, the City of Chicago will receive a grant from the World Wildlife Fund's Earth Hour City Challenge, a year-long competition recognizing cities that advance renewable energy or energy efficiency projects in the community. Earlier this month, Chicago was selected out of a group of 60 cities as the United States' 2014 Earth Hour Capital by a global jury of experts convened by the World Wildlife Fund. Chicago will use the grant award to launch a partnership to help make going solar more affordable.
Here is the official video of 2014 Earth Hour. For more information, visit www.earthhour.org