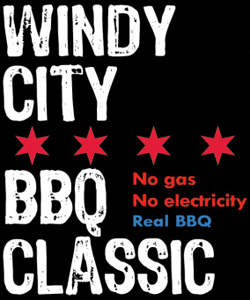 This Sunday, September 1, marks the second annual Windy City BBQ Classic and my son Peter and I have already purchased our tickets.   There will be more that 30 pit masters vieing in Chicago's only authentic barbecue competition where competitors have to use only wood or charcoal to cook meat for an accredited judging panel.
This year's daylong competition has moved to the South Parking Lot at Soldier Field and starts at noon.
Besides tasting the ribs, chicken, brisket and pork shoulder all day long, there will be 30 craft beer offerings and live music until closing at 9 PM.
We'll take plenty of photos and share them.  Sorry we can't share the BBQ or beer – if you want those, you'll have to buy your own ticket and come down to Soldier Field on Sunday afternoon.